Struggling to figure out what to get the expecting mama in your life? We feel you. Choosing gifts for pregnant women is difficult.
Pregnancy is a transformative experience, and it would be strange not to acknowledge your partner, friend, or family member's pregnancy with a gift to make her more comfortable.
But where do you start?
If you're feeling a little lost, our guide to the 14 best Christmas gifts for your pregnant wife (or daughter, or sister, or friend) will point you in the right direction.
Your Gifts for Pregnant Women Guide
If you want to go off script and come up with your own gift idea (or maybe your wife already has a Snoogle?), best of luck to you.
But in all seriousness, we discussed with a few pregnant women to put this gift guide together for you.
The first question to ask is…
Should you get a gift for her, or for your baby-to-be?
Answer:
Her. Always, always her. These are the last few months that she'll be flying solo, and to get a gift for the baby is like saying you see her and the baby as one and the same. Don't do it.
Another question:
Should you get a pregnancy or new-mom related gift, or a gift completely separate?
Answer:
Does she have a Snoogle yet? If yes, you can absolutely get a separate gift — something that she wants that is not related to pregnancy. But pregnancy-related gifts — anything to keep her comfortable, or to help her commemorate this time, will likely be appreciated.
If you decide to go with a pregnancy-related gift, here are some guidelines:
Consider her comfort. Between a rapidly expanding belly, an aching back, and heavy legs, pregnancy can be rough on the body. Gifts that improve an expectant mom's comfort (think: body pillows, maternity belts, and compression socks) never go amiss.
Pamper her. Dry skin, brittle hair, and stretch marks go hand-in-hand with pregnancy. Nourishing skincare products or body care baskets can help mama get her glow back.
Make some memories. Many moms-to-be like the idea of recording their personal pregnancy journey. With a pregnancy scrapbook or journal, moms can revisit every step.
Make her laugh. Heartburn, morning sickness, stretch marks, and steady weight gain aren't exactly a barrel of laughs. Light-hearted gifts like funny printed t-shirts, socks, or mugs can add a touch of humor to the experience.
Got it? Good. Let's shop!
This pregnancy pillow has nearly 7,500 reviews on Amazon. It's the holy grail of pregnancy gear, and it truly is a lifesaver.
With reviews like this, how can you go wrong?:
Support in key areas alleviates pain and discomfort, no more tossing and turning, and doubles as a breastfeeding pillow? Yes, please.
Pros
Takes pressure off the back, hips, and belly for a (MUCH) better night's sleep.
Helps back and tummy sleepers adapt to side-sleeping.
Fully removable extension delivers greater user versatility.
Jersey knit cotton cover is soft, comfy, and machine washable for fuss-free cleaning.
Cons
It doesn't leave much room for cuddling or spooning.
Takes up a good chunk of bed-space.
#2: A 3D Ultrasound
After about 24 weeks (but ideally between 27 and 34 weeks), you can book a 3D ultrasound. These are those ultrasounds where you can see your little one on the inside, bopping around.
When I was 26 weeks pregnant, I was gifted a 3D ultrasound for my birthday, and it was one of the best gifts I received. It was amazing to see my baby in such high definition. When we were in the waiting room, one woman told us she was going in for the third time (!!) if that gives you a sense of just how much some women love these.
Pros
You're gifting an experience and cutting down on clutter
She'll love how thoughtful this is
You usually get a printout and a video recording of the ultrasound
Cons
The wait sucks if she's at the very beginning of her pregnancy!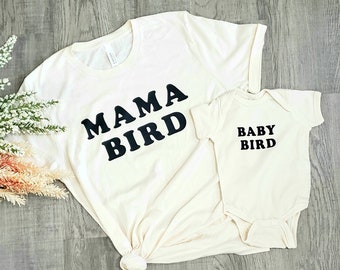 Yes, THE mama bird tee. This is everywhere, because it's adorable, and it's a must-have for every mom to be. Also snag a matching "baby bird" onesie for your little one because trust me, she's going to want to take some baby & me photos in this bad boy.
Pros
Affordable
Perfect for photo ops
Great quality
Print holds up well to washing.
Cons
Sizes run small, so order a size or two up.
This adorable set addresses 3 major pregnancy skin issues with tried and trusted natural ingredients. Nature's answer to an itchy belly, aching legs and chapped lips.
Pros
Mom's swear by the cocoa, Shea, and jojoba infused belly butter for relief from dry, tight skin and stretch mark prevention.
Peppermint and coconut foot and leg cream moisturizes skin and reduces aches, pains, and cramping.
Beeswax lip balm keeps those kissers soft and, well, kissable.
Perfectly packaged for gifting.
Cons
A handful of users found the peppermint leg and foot cream a bit overpowering.
Somewhat pricey for just 3 items.
Ladies who enjoy writing and scrapbooking will love this guided pregnancy journal. A pre-pregnancy section, a variety of writing prompts, ample space for photos, helpful tips, and interesting facts make this one of the most organized and comprehensive options out there.
Pros
Features 4 sections, broken down into separate categories: pre-pregnancy, 1st trimester, 2nd trimester, and 3rd trimester.
Makes it easy to track everything from cravings and food aversions to prenatal check-ups and bump circumference.
Information about common pregnancy symptoms and what to expect during checkups is especially helpful for first-time moms.
Gender-neutral, but pretty.
Cons
Some moms might not want to fill in every single section.
Largely geared towards first-time moms.
Tired legs, varicose veins, and swollen feet and ankles can be a real drag. These compression socks improve blood circulation, reduce swelling, and soothe aches for happier feet and legs. Plus, they come in a massive selection of colors and prints.
Pros
Strong compression effectively relieves fatigue, swelling, and pain.
Moisture-wicking fabric resists bacteria and odors.
Comfortable and itch-free.
Stays in place throughout the day.
Available in a wide variety of fun colors and patterns.
Cons
The toe box might be a little too roomy for some.
Patterned versions have a tendency to leave impressions on the skin.
If you're looking for an affordable gift that's rich in meaning, this Mexican Bola pregnancy necklace, or Angel Caller, fits the bill perfectly. These charming necklaces are designed to rest on the belly and, according to ancient Mayan lore, the soft chiming of the bell draws the wearer's guardian angel near.
Pros
The story behind this gift adds a touch of magic, making it extra special.
Lead, cadmium, and nickel-free; SGS certified.
Available in a variety of colors.
Attractive packaging.
Affordable.
Cons
The chain is a bit shiny, but can easily be replaced if necessary.
Chain clasp feels flimsy but seems to hold up just fine.
There's nothing like sliding your feet into a comfy pair of slippers — especially when they're swollen, sore, and tired. These orthopedic slippers deliver serious support and also accommodate swelling with an adjustable hook and loop closure.
Pros
Excellent arch support.
Features a deep heel cup and a rubber sole for superior stability.
EVA footbed absorbs impact and reduces strain on the joints.
Contouring design is exceptionally comfortable and supportive.
Stamped with the APMA's seal of approval.
Cons
Pricey.
Footbed lining wears out within a few months of everyday use
A growing bump can put incredible strain on the back and hips. This maternity belt offers moms some much-needed support in the second and third trimester, and can even be used to support weakened abdominal muscles after pregnancy.
Pros
Provides support for the lower back, hips, and abdomen.
Relieves pain and pressure in minutes.
Soft and breathable.
Fully adjustable and easy to put on and take off.
Cons
Can ride up a little when sitting.
Velcro can stick to clothing.
Pregnant or not, ask any woman and they'll tell you: There's nothing more devastating than having to retire a favorite pair of jeans because of an expanding waistline. With these waistband extenders, she can comfortably rock all her pre-pregnancy jeans once again.
Pros
Extends the waist of any pants with belt loops.
Offers some support for growing bellies too.
Available in multiple sizes.
Easy to use.
Cons
Too wide for small belt loops.
Limited color selection.
Expensive for what it is.
Beautifully soft, stretchy, and uber-stylish, this maternity robe will quickly become any Mama's favorite piece of clothing. A top choice if you're looking for a gift that will be loved well beyond pregnancy.
Pros
"Bump and beyond" design is ideal for pregnancy, delivery, and nursing.
Bamboo construction is silky soft and supremely comfortable.
Belt is carefully positioned to accommodate growing bellies.
Stylish enough to wear with confidence during postpartum visits.
Adorable matching swaddles, rompers, and bows can be bought separately.
Cons
A bit pricey (but so worth it!)
Did you know that babies are able to recall voices and music heard in the womb? With these nifty earbuds, babies can listen to Mom's favorite tracks, a lullaby, or even a sweet recorded message.
Pros
Lightweight and easy to attach using the hydrogel adhesives.
Limited switch helps ensure volume stays at a safe level.
Features an audio splitter so mom and baby can listen together.
Comes with a handy storage pouch.
Cons
Adhesive pads will eventually need to be replaced.
Pricey.
Jack isn't compatible with the latest iPhones
Despite being perfectly natural, stretch marks are a major concern for many pregnant ladies. This skincare set is carefully formulated to keep skin moisturized and supple while reducing the appearance of stretch marks.
Pros
Includes massage lotion, massage cream, tummy butter, and a bonus bottle of skin therapy oil.
Specially formulated to improve skin elasticity.
Made with plant-based ingredients.
Feels and smells amazing.
Cons
Tummy butter is thick and can be difficult to spread.
Some reports of damaged packaging.
Every proud mama wants to show off her offspring. This triple sonogram picture frame has windows for the first scan, second scan, and first photo so moms can display pics before and baby after baby arrives.
Pros
Great way to display baby's best-looking scans.
Provides an interesting visual of baby's development.
Well crafted.
Affordable
Cons
Frame windows are larger than the average sonogram.
Backing slides off a bit too easily.
There you go — 14 amazing Christmas gifts for your pregnant wife that are sure to impress!